link copied to clipboard
saving changes, please wait..
page successfully updated
error saving changes
file size exceeds 512kb.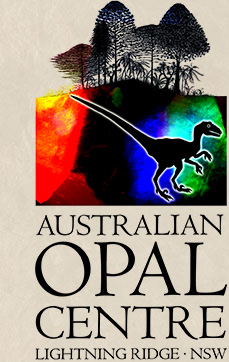 Raised by 0 people in days for Lightning Ridge Opal And Fossil Centre Inc
Crowdfunding Campaign 2012
Story

Support the most exciting project in Australia!
At Lightning Ridge in outback NSW, we're going to construct an extraordinary building filled with glittering treasures from the earth. At the Australian Opal Centre you will marvel at precious opal gemstones in every colour of the rainbow and the world's greatest public collection of fossils made of opal - rare and valuable relics from the Age of Dinosaurs. And you'll share in the stories of resilience, ingenuity, mateship and humour for which people of the opal fields are famous.
To make this a reality, you can give & share now
Donate - Donations over $2 are tax deductible in Australia. Make your donation, watch our total grow and leave a message to appear at the bottom of this page. (Shy types: you can choose to be anonymous)
Share - Spread the news by email and (radical!) by word of mouth! Or you can like us on Facebook, twitter and Google+ (above). Let's send this thing VIRAL!
More about the Campaign
All of this, in a groundbreaking, sustainable building that is the long-awaited masterwork of renowned Australian architects Glenn Murcutt and Wendy Lewin.

This remarkable community project is managed by Lightning Ridge Opal and Fossil Centre Incorporated, a not-for-profit group with supporters across Australia and in eight other countries. The people of the opal fields have so far donated items worth more than $2,250,000 to our national collection, over $850,000 in cash and countlesss hours of work. With support from local, state and Australian governments they have developed a magnificent national collection and acquired a beautiful and historic site on the famous Three Mile opal field.



The Australian Opal Centre is a gift to the world from the people of the Australian opal fields. Now, we need your help to achieve our magnificent building. You can build a 21st century architectural icon and set a world record for the biggest crowdfunded project ever.



$28.5 million is required to construct the Australian Opal Centre. All we need is a million people to give $30 each, or 300,000 people to give $100 each. We can do it!

Give what you can, and we'll create a priceless treasure for you, your family, friends and generations to come. And we will record your name in a magnificent book dedicated to the people who brought the Australian Opal Centre into being. This book will be displayed at the Centre and you will be invited to come and sign it beside your name.



The Australian Opal Centre will be a global focus for research and promotion of Australia's National Gemstone, an international tourism asset, world class architectural icon and a dynamic stimulus to economic and cultural development in Australia's opal producing states of NSW, Queensland and South Australia – and beyond.
read more
All
Donations

0
Activity

0


There are no current donations or activities for this user.

There are no current donations or activities for this user.
There are no current activities for this user.

Lightning Ridge Opal And Fossil Centre Inc
The Australian Opal Centre is an extraordinary national project being developed at Lightning Ridge in outback NSW, to showcase a world class collection of Australian opal, opalised fossils and vibrant opal field heritage. It will foster education, training, scientific research, tourism, industry and community cultural development, and revitalise regional economies across three states of Australia. The Australian Opal Centre is managed by Lightning Ridge Opal and Fossil Centre Inc, a not-for-profit organisation.   Isolated and disadvantaged communities have contributed over $850,000 in cash and donated items worth more than $2 million to the Centre's magnificent national collection, acquired a breathtaking site and commissioned Glenn Murcutt and Wendy Lewin – two of Australia's greatest architects – to design an energy-efficient building set to become a 21st century architectural icon.   This brilliant project is a gift to the world from the people of Australia's opal fields. Now, they need your help to realise their vision. Give what you can, and we'll create a priceless treasure for this and future generations.   [url=http://www.australianopalcentre.com][b]www.australianopalcentre.com[/b][/url]
read more
Created by
Australian Opal Cent
for Crowdfunding Campaign 2012

$150 of $100,000 target
0 people in days